This article will help you better understand what coaching is and how it can help you in your personal and professional life. Since we spend more than 40% of our time at work, coaching addresses both life and work issues. The article will also help illustrate why some people are stagnating whereas others are succeeding in life.
In your personal life
Maslow's pyramid is a good way to explain and demystify coaching through a single image.
Simply put, it illustrates the five basic needs of all human beings. Just take a look and I will explain below: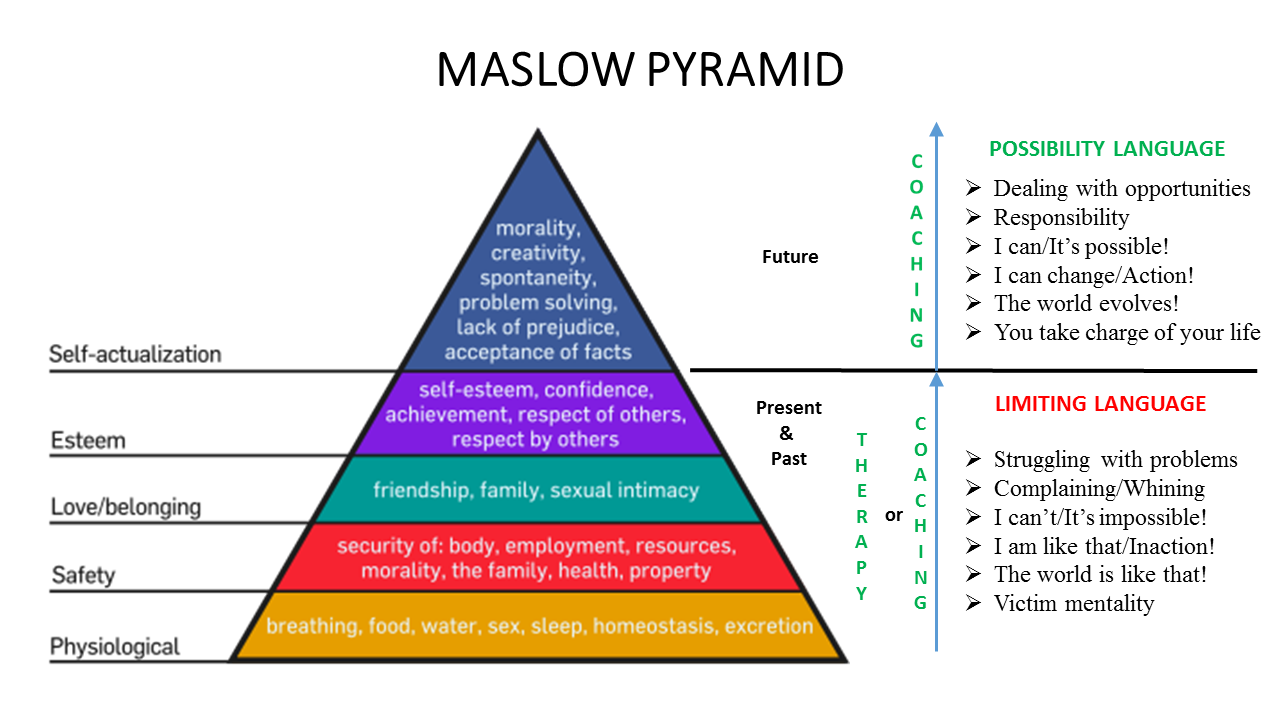 Although this picture already states a lot, here are some additional explanations.
All human beings:
have basic needs (first 4 levels of the pyramid);
have a desire to evolve (top of the pyramid) , consciously or unconsciously, after they have met most of their basic needs;
face difficulties in life, and;
are either succeeding in life, or are finding it difficult and are stagnating.
Depending on your ability to cope and solve problems, you may spend more or less time at the top of the pyramid, a place where you can thrive and create your life as you wish.
People who are struggling have a negative mindset and use a limiting language, hence their life will be more challenging. On the other hand, people who succeed have a positive mindset, a future-oriented focus and use the language of possibilities. Therefore, they spend more time fulfilling themselves and creating their ideal life.
People who live in the past focus on problems, whereas people who live in the present and have vision for the future focus on solutions and opportunities.
Coaching can help you at any level.  However, please note that if you are really struggling and are depressed, you might require therapy instead of coaching.
At work
The pyramid of work is a good way to explain the challenges most leaders (managers and engineers) face at work.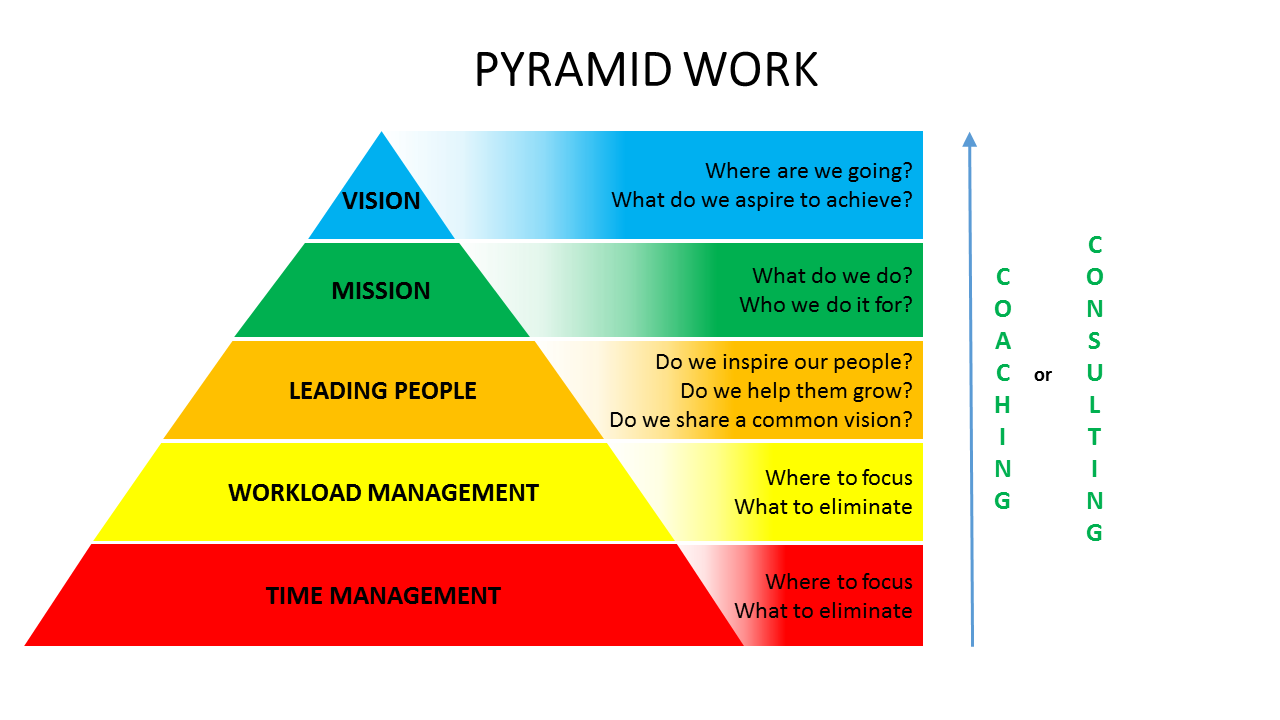 Over the years, during my career and in my coaching practice, I have noticed that most managers and engineers face their biggest challenges in three main categories:
Time management
Workload management
Leading people (providing constructive feedback, inspiring them, helping employees grow and become more autonomous, productive, and happy)
But the most important issue is what I call the invisible problem.  It is the fact of not having a vision (see link at the bottom for articles on this topic).
Just ask this question of anybody:
"Where do you want to be 5-10 years from now?"
And you will realize that the majority of people don't have an answer for that.
And ask yourself this question as a leader:
"How can I inspire my children', my employees, and the others in my life if I don't know where I am going myself?"
What is Coaching
Coaching is a unique and extraordinarily powerful approach to supporting clients. Coaching is also a revolutionary approach to human development that embodies a philosophy of empowerment with a process of ongoing support.
In essence, coaching is:
a thought-provoking and creative process that inspires you to define and reach both your personal and professional goals much more quickly and easily than without a coach;
a partnership and process over a long period of time (minimum 4 months) that focuses on taking action to achieve your vision, goals, and desires, and;
the discovery of your true self, which increases your level of perception, responsibility and influence.
Standing on this foundation, the coach's responsibility is to:
encourage client self-discovery (strengths, talents, values, etc…) and help him improve his leadership and management skills;
elicit client-generated solutions and strategies therefore generating a greater commitment from the client;
hold the client responsible and accountable for the actions he/she takes for generating change, and;
focus on the future and in opportunities rather than on the past and problems.
Coaching helps eliminate the big gap between KNOWING and DOING! Many people know what they want to do but they don't know how to do it!
Coaching provides the missing component between knowledge and implementation. The process allows the client to develop the tools to be more effective at work and in life.
Coaching can help you become more successful by helping you solve your current problems in life and at work while simultaneously enabling you to plan and build your future.
Do not hesitate to contact me for more information or for a free coaching session.
https://dussaultexpert.com/en/
Links for articles on vision:
https://dussaultexpert.com/en/lets-talk-about-vision-we-choose-to-go-to-the-moon/
https://dussaultexpert.com/en/the-biggest-leadership-problem-is-invisible-3-ways-to-impact-your-life-with-a-vision/