When we look at all the great inventions in history, they all solved a big problem.  But sometimes the invention is so innovative that people realized that there was a problem only after they had used it.  To them, the problem was invisible.
I believe one of the biggest leadership problems at work and in life in general is not so obvious. I call it "the invisible problem," one that most people are unaware of.  Simply put, it's not having a vision in their life.
During my career and my coaching, I realized that most of the problems my clients talked about are both pretty obvious and visible.  For instance, they faced issues on time and workload management as well as problems with work life balance. They are also confronted with a lot with human issues on a daily basis. Strangely (or not), they are facing almost the same problems in their personal lives.
But I found that the biggest leadership problem is not so obvious: they neither understand nor see the impact of not having a vision.
Vision* is the ability to look ahead and see possibility.  Vision involves looking at the world around you and asking,
"What am I going to do about it?"
"How am I going to use the precious gift that is my own life?"
In my case, one quote about vision literally changed my life and made me aware of this invisible problem.
Brian Tracy said:
MOST PEOPLE WANDER AROUND IN LIFE AIMLESSLY AND THEY WONDER WHY THEY DON'T LIVE THE LIFE OF THEIR AMBITIONS AND THEIR DREAM.
When I read that quote, I immediately recognized that I belonged to this group. And ever since I have defined my own vision for the future, my life finally gained a direction.
Just ask this question of anybody:
"Where do you want to be 5-10 years from now?"
And you will realize that the majority of people don't have an answer for that.
And ask yourself this question as a leader:
"How can I inspire my children', my employees, and the others in my life if I don't know where I am going myself?"
If you are not crystal clear about what you want to accomplish at work or in life, you are most likely drifting like I did for a long time.  It doesn't mean that you don't have a nice life or that you don't have any success, but one thing is for sure: you are not on the optimal course to live the life of your ambitions and dreams.
So how is this related with the great inventions that have solved big problems?
Take for instance the invention of the light bulb and the telephone.  These two devices opened many opportunities that were not visible to people before. When people began to use them, they discovered a new world that allowed them to do many things that they had never dreamed possible.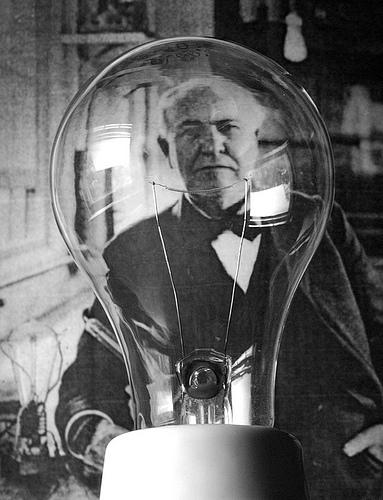 Having a vision acts like a great invention in that same way: it will make you realize what you couldn't see before.
Here are three ways in which having a vision can impact your life:
Firstly: A powerful and compelling vision allows you to bridge the gap between your current reality and the way things could or should be in the future**.
Secondly: When facing extreme adversity, a vision will help you persevere and stay focused because you will think only about the vision you want to accomplish.  This vision is what enabled some people to survive the Nazi death camps during World War II. Victor Frankl, the Austrian psychiatrist who founded logotherapy, experienced it, witnessed it, and studied it while he himself was imprisoned in those camps.
Thirdly: Great leaders know that crafting and sharing a well-developed vision can change a person, a team, and ultimately, a company**.
Make it your big invention to develop your own vision, because it will help you inspire others and overcome obstacles, no matter the circumstances.
If you want to take a first step and think about developing your own vision, I invite you to read this inspiring article: "Let's Talk About Vision: We Choose to Go to the Moon".
If you want more information about how to develop your vision, please contact me at:
https://dussaultexpert.com/en/
*Maria Bartiromo. The 10 Laws of Enduring Success.
** John C. Maxwell