What is coaching
ICF defines coaching as partnering with clients in a thought-provoking and creative process that inspires them to maximize their personal and professional potential, which is particularly important in today's uncertain and complex environment. Coaches honor the client as the expert in his or her life and work and believe every client is creative, resourceful and whole.
Coaching is a unique and extraordinarily powerful approach to supporting clients. Coaching is also a revolutionary approach to human development that embodies a philosophy of empowerment with a process of ongoing support,
Standing on this foundation, the coach's responsibility is to:
Discover, clarify, and align with what the client wants to achieve
Encourage client self-discovery (strengths, talents, values, etc…).
Elicit client-generated solutions and strategies
Hold the client responsible and accountable
The focus is on the future and opportunities rather than on the past and problems
Coaching is not :
Mentoring, consulting, training/tutoring, therapy or Athletic coaching
There is no diagnostic and the solutions and strategies are generated by the client through the coaching process.
Consultating helps people become more effective. Coaching helps effective people to make extraordinary contributions.
This process helps clients dramatically improve their outlook on work and life, while improving their leadership skills and unlocking their potential.
Who is the ICF
The International Coach Federation seeks to Advance the Art, Science and Practice of Professional Coaching.
In today's fast-paced world, growing numbers of businesses, organizations and individuals are turning to professional coaching to increase their effectiveness, build relationships and reach their goals.
The International Coach Federation is the support network for these professional coaches. Whether it's Life Coaching, Executive Coaching, Leadership Coaching or any other skilled coaching, ICF leads the global community in advancing the profession. ICF helps serve the flourishing of humanity by using coaching's creative and thought-provoking process to maximize professional and personal potential.
Through a worldwide network of professional coaches, ICF builds, supports and preserves this growing field, providing connections near and far.
ICF builds the profession's visibility with partnerships, global strategic alliances, public relations, marketing items, and tools such as the Coach Referral Service (CRS), a free service that can help potential clients locate accredited member ICF coaches.
ICF supports members through continual professional development and growth opportunities, both locally and internationally, including conferences, annual research reports and networking programs. The organization also partners with resource providers to benefit members and use ICF's strength in numbers. ICF offers additional support through its website, databases and publications.
ICF preserves the integrity of coaching through internationally accepted professional standards. Today, ICF is specifically recognized among coaching professionals worldwide for:
Developing coaching core competencies
Establishing a professional code of ethics and standards
Creating an internationally recognized credentialing program
Setting guidelines through accreditation for coach-specific training programs
Providing focused discussion through Communities of Practice (CPs)
Why coaching work
Coaching helps by eliminating the big gap between knowing and doing! Many people know what they want to do but they don't know how!
The missing component between knowledge and implementation is coaching
The process of working with a client on a weekly basis for a long period of time and have it commit to goals (Accountability) ensures that the results will be met.
We help the client discover his strengths and values and help him improve is leadership and management skills
The structure of the process enables the client to develop the tools to be more efficient and effective at work and in his life.
The solutions are generated by the client and not imposed therefore generating a greater commitment from the client.
Coaching helps organizations develop flexible methods and development practices for individuals to achieve their strategic objectives, support their activities and maintain high levels of customer satisfaction.
Coaching significantly increases the performance of leaders. It can improve communication skills by giving employees a renewed confidence. It also helps employees better navigate the political universe of the organization by increasing their listening skills and helping them to accept feedback from their colleagues.
How coaching works?
The best way to understand how coaching works it to try it through a free sample session.
Book a free sample session now
Difference between mentoring, consulting, training, athletic coaching and coaching
Mentoring
A mentor is an expert who provides wisdom and guidance based on his or her own experience. Mentoring may include advising, counseling and coaching. The coaching process does not include advising or counseling, and focuses instead on individuals or groups setting and reaching their own objectives.
Consulting
Individuals or organizations retain consultants for their expertise. While consulting approaches vary widely, the assumption is the consultant will diagnose problems and prescribe and, sometimes, implement solutions. With coaching, the assumption is that individuals or teams are capable of generating their own solutions, with the coach supplying supportive, discovery-based approaches and frameworks.
Training
Training programs are based on objectives set out by the trainer or instructor. Though objectives are clarified in the coaching process, they are set by the individual or team being coached, with guidance provided by the coach. Training also assumes a linear learning path that coincides with an established curriculum. Coaching is less linear without a set curriculum.
Athletic Coaching
Though sports metaphors are often used, professional coaching is different from sports coaching. The athletic coach is often seen as an expert who guides and directs the behavior of individuals or teams based on his or her greater experience and knowledge. Professional coaches possess these qualities, but their experience and knowledge of the individual or team determines the direction. Additionally, professional coaching, unlike athletic development, does not focus on behaviors that are being executed poorly or incorrectly. Instead, the focus is on identifying opportunity for development based on individual strengths and capabilities.
Difference between therapy and coaching
Therapy
Therapy deals with healing pain, dysfunction and conflict within an individual or in relationships. The focus is often on resolving difficulties arising from the past that hamper an individual's emotional functioning in the present, improving overall psychological functioning, and dealing with the present in more emotionally healthy ways. Coaching, on the other hand, supports personal and professional growth based on self-initiated change in pursuit of specific actionable outcomes. These outcomes are linked to personal or professional success. Coaching is future focused. While positive feelings/emotions may be a natural outcome of coaching, the primary focus is on creating actionable strategies for achieving specific goals in one's work or personal life. The emphases in a coaching relationship are on action, accountability, and follow through.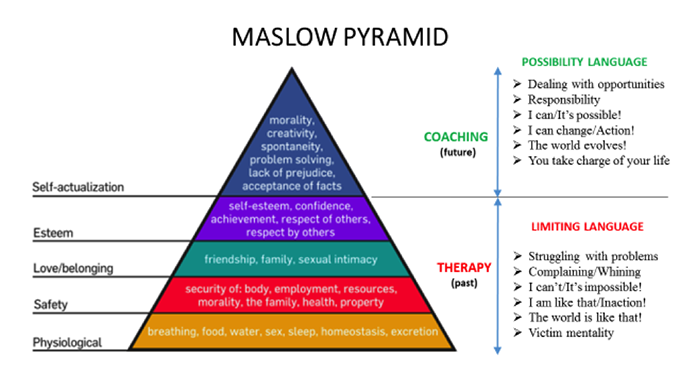 Why use coaching?
Business
An individual or team might choose to work with a coach for many reasons, including but not limited to the following:
Something urgent, compelling or exciting is at stake (a challenge, stretch goal or opportunity)
A gap exists in knowledge, skills, confidence or resources
A desire to accelerate results
A lack of clarity with choices to be made
Success has started to become problematic
Work and life are out of balance, creating unwanted consequences
Core strengths need to be identified, along with how best to leverage them
To get prepared for a new role in the organization or in another organization
Developing more effective leadership.
Develop specific skills: political skills, communication or presentation skills, delegation, priority management, team management, performance management, etc.
Develop a presence with impact in a leadership role
Give career a new direction , or reconsider current career
Reflect about current life and consider new avenues for personal growth
Correct the gap in professional or private life after a major event
Developing more effective interpersonal style to help achieve its objectives
Correct inappropriate behavior or change his style to adapt to life situations
Know your strengths in order to have more success in his life and career
Leadership is influence!
John C. Maxwell
What is your real level of influence?
If your team is not willing to go to war with you, you are doomed!
Personal
There are many different reasons why you would like be coached:
You want to realize a dream, a project!
You want to be a better parent, lover, and friend!
You want to improve your life!
You want to reach your full potential!
You want to live a fulfilling life!
You want to take advantage of all the opportunities in life!
You want to have no regrets on your death bed!
You want your life to be an adventure!
You want to understand the world you live in!
You want to make this world better!
You want to help people around you!
You want to appreciate every minute of your life!
You want to make the most out of everything!
You want to get out of your comfort zone!
You want to get out of your uncomfortable zone!
You want to break the infernal cycle of today's modern life!
Despite having everything according to society's standards, you feel there is something missing!
You want to give meaning to your life!
You are facing a midlife crisis!